Fun news for January: ReGina (my mom for anyone who doesn't know!) and I are part of this year's Cozy Mystery Book Club!
If you sign up, you'll get an ebook emailed to you each month–books that aren't offered for FREE anywhere else!
Here's how it works:
When you sign up, you'll immediately receive this month's FREE ebook – Space Murder by the hilarious Nikki Haverstock – when you sign up. The only requirement is that you agree to be added to each author's individual newsletter (you can opt out at any time).
The Cozy Mystery Book Club authors for 2022 are Sara Rosett, Shéa MacLeod, Traci Andrighetti, ReGina Welling & Erin Lynn, Zara Keane, Leighann Dobbs, Erin Johnson, Bonnie Hardy, Anne R. Tan, Morgana Best, Nikki Haverstock, and Lynn Cahoon.
To receive your FREE copy of Space Murder and subsequent monthly ebooks, sign up today at
https://cozymysterybookclub.com
For everything there is a season…
Once the star student of her training class, Captain Liz Laika is now an outcast, a casualty of family scandal. Now stuck in the worst post in the Fleet, she should keep her head down. But when a Cerulean passenger is found decapitated, and Liz is framed for the murder, she has no choice but to fight for her life. No easy feat when she's facing kidnapping, ship-eating whales, horse-sized spiders and corrupt fleet officers with personal vendettas. And in the middle of the intergalactic murder drama, her ex-fiancé reappears. Captain Liz needs to clear her name–and fast.
---
New Release (sort of!)
I'm hoping you have some residual Christmas spirit floating around, because we (doh!) forgot that we've been sitting on a Mag & Clara Balefire short Christmas story.
A couple of years ago, "Wicked Gift of the Witch" appeared in a multi-author anthology titled "Hexes and Holly" and has been languishing in our cloud ever since!
It's up for preorder on Amazon, releasing January 31 for just 99¢!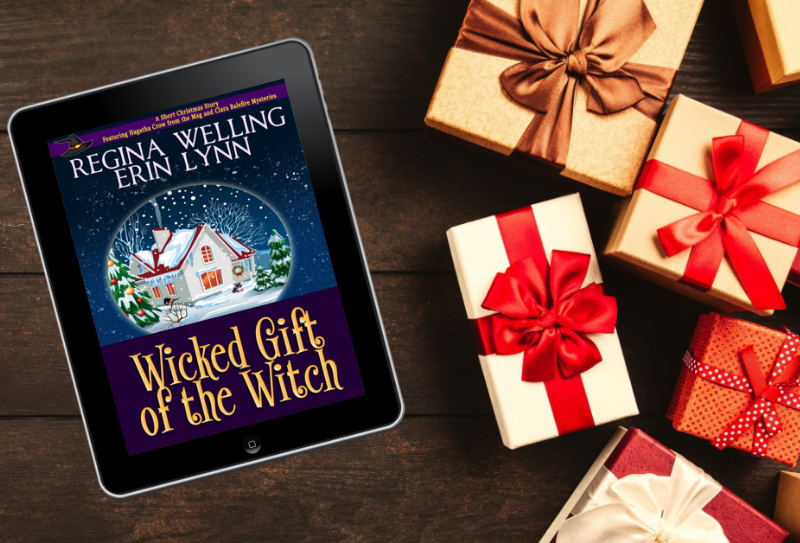 Hagatha Crow likes nothing more than causing trouble. When she takes on the magic of a Christmas wish made by a grief-stricken woman, Hagatha learns a lesson she won't soon forget.
This is a standalone story from the Mag and Clara Balefire mysteries world. It is not, however a mystery. It is merely a witchy Christmas story that we hope you'll enjoy.